Rebuilt in-house products
1. Alternators and Starters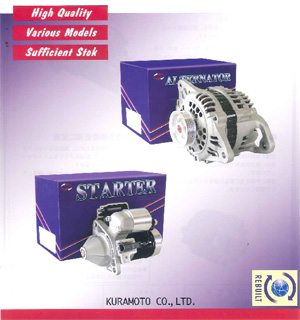 Our company prepared variegated models, such as a gasoline system vehicles and diesel engine system trucks, construction vehicles, fork lift trucks and special purpose vehicles of 12V and 24V. It may be able to do just because we are specialized trading company for electrical equipments. We make it the consistent motto to reply to the needs for a customer as a specialized trading company of electrical equipments. All of these products are produced at our factory and an associated company, and they put high quality control into practice.
Electrical equipment makers:
Automobiles:
Construction and Industrial Vehicles:
The quality assurance system of rebuilt made from Kuramoto.

Warranty period
We run 20,000km or 12 months after sales will be guaranteed to arrive early at either..

The contents of warranty
Exchange of a substitute or actual products free repair of a fault generating rebuilt products.
2. Spare parts and rebuilt parts for Automotive
A/C Compressors

Warranty Period: One year or 10,000km
The components exchanged basically are as follows.
Seal, Piston, O.Ring, Gasket, Clutch etc.

Drive shaft parts

Drive shaft assy., Universal joints, New C.V. joints and Rebuilt C.V. Joints etc.

Mission parts

AT Missions, Torque converters and M/T Missions

Power steering parts

Power steering rack and pinions, Electric rack and pinions, Gear boxes and Pumps etc.

Engine parts

Cylinder heads, A/C compressors, Distributors and Digital meters, ECU etc.

Related carburetor

Turbo chargers, Injection pumps, Throttle chambers, Carburetors and Radiators etc.